Most are built with heat-treated alloy steel to be lightweight, but high strength and durable. Most grapplers have a full 360-degree continuous rotation capability, allowing them to pick items up, no matter the location. Tine/finger configuration are dependent on the material to be handled. Read More…
Grapplers
A grappler is a highly resourceful tool used in a variety of applications. Designed to pick up waste material, loose material, ferrous and non-ferrous metals, automotive salvage and much more. Since they are used in such rough environments, grapplers need to be extremely rugged and heavy duty.
Tackling the toughest shredding problems since 1980, SSI Shredding Systems designs, manufactures and supports today's most versatile grapplers and grappling solutions. Our innovative engineering means equipment for all needs: waste (including medical), metal, paper, tire, e-scrap, plastics, product/security destruction, construction and demolition (C and D).
Wilsonville, OR | 503-682-3633
Request for Quote
$$$
Get Your Company Listed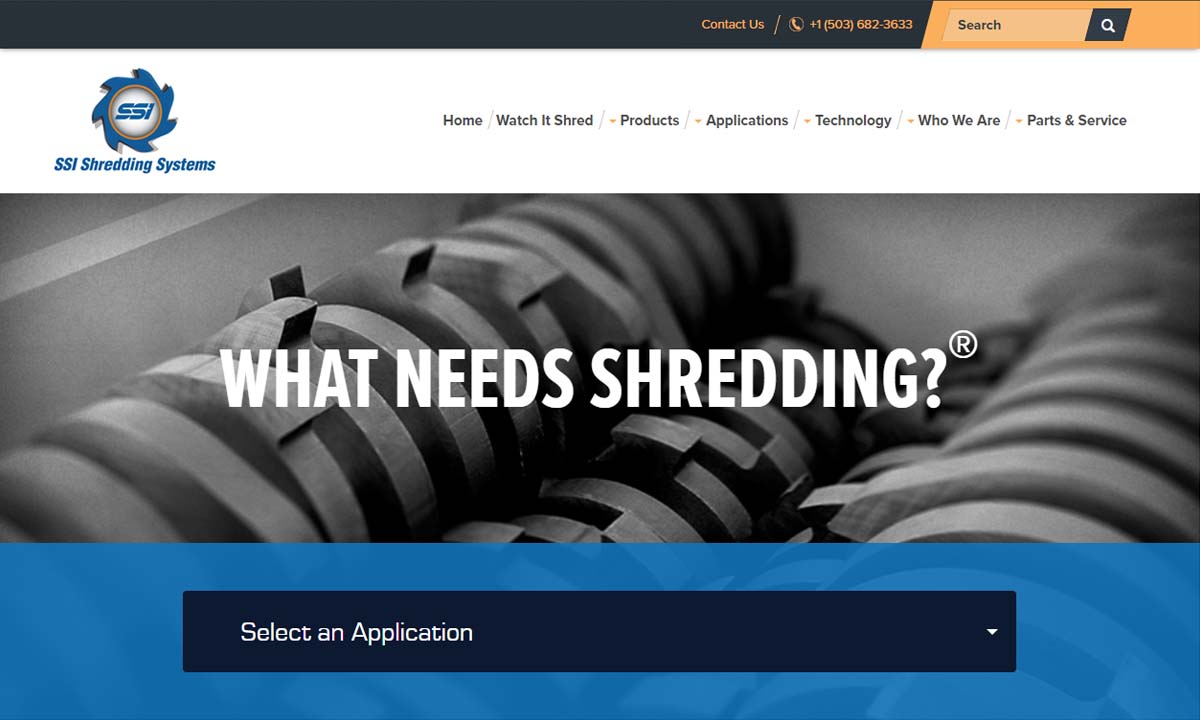 Grapplers are offered in open tine, semi-closed tine and fully-closed tine, as well as bucket-style. Moving earth, sand, gravel, mud, coal, refuse, industrial waste and other minerals can be a breeze with the correct grappler.
Along with picking up metals and minerals for placement into an industrial shredder, grapplers are often used for logging. A grappler can be mounted on the back of a truck, or there are material handlers, which can be driven on their own and can have a grappler attached. These are extremely convenient for the logging industry and the rough terrains that are worked on.
Out in the field, machines need to have speed, stability and a long reach in order to get the job done. Grapples can typically lift between 1,000 and 7,000 lbs. max, depending on the size of the grapple. Material handlers with grapples can typically have a max lift of up to 750,000 lbs.
Material handlers with a grapple are equipped with a joystick, to make the movement of materials easy and allows the handler to put objects exactly where they want them. Other grapples can be remote controlled from distances of up to 500 ft. away.
Magnetic grapples are used in most junkyards and other auto recycling locations where large magnetic materials need to be moved. These grapples make it a breeze for the operator to move around scrap material, such as flattened cars.
Designed to have abrasion resistant tines/fingers that fold up and tuck away, the magnet can reach into corners of a truck for full cleaning. Made in all different shapes and sizes, grapplers can be used in even the toughest circumstances.
There are a lot of grapples to choose from, there are log grapples, scrap grapples, rock grapples, waste grapples, magnet grapples, diesel powered grapples, pulper grapples, car grapples along with log, pipe and pole forks. With so many varieties, there is a grapple out there for whatever job needs to be done. Grapples can also be custom-designed if there is not one produced for what the job you need to accomplish.
Grappler Informational Video