A heavy-duty shredding machine designed specifically for electronics like hard drives, cassettes, and CDs is used to physically destroy a hard drive during hard drive shredding. Hard drive shredders ensure that all hard disk components are fully destroyed and that no information is left on the drive that could be recovered. Many sensitive files are stored on used hard drives, which may put those files at risk. All types of electronic devices, including desktop and laptop computers, servers, tablets, printing equipment, and smartphones, include this data. Read More…
Hard Drive Shredders
Hard drive shredders are industrial shredders that are used for permanently destroying computer hard drives.
Types of Hard Drives
Hard Disk Drives
Hard disk drives (HDDs) are not new, and older computers often have them installed. They have a rotating, movable component that rotates when reading and writing. Hence they typically produce noise. Hard disk drives may not be as common on contemporary desktop and laptop computers these days, but they are still widely used because of their storage capacity. The lowest capacities are 16 GB, 32 GB, and 64 GB. Hard drives come in sizes of 500 GB, 1 TB, 2 TB, and greater than 4 TB. Hard disk drives may not be replaced soon because of their enormous storage capacity. External hard disks can also be utilized to back up information.
Solid State Drives
SSDs (solid state drives) predominate over HDDs in most modern systems. Unlike earlier hard drive systems, they don't have moving parts and don't store data via magnetism, Therefore, they are quieter than hard disk drives. As with third-generation computers, they use integrated circuits (ICs) instead. They become stronger, quicker, and less susceptible to harm and corruption as a result. Compared to earlier types of hard drives, SSD hard drives offer the considerable advantages of data transfer rates of 550 MB/s and faster boot times. Although solid-state devices are much more expensive than hard disk drives, they also come in gigantic file sizes.
The Shredding Process of Hard Drives
A shredder operates by aligning rows of metal teeth that split the hard drive's platters and casing into numerous, occasionally tiny, pieces. But there is no agreed-upon definition of what "shredding" a hard drive entails. Hard drives are only split in half by some shredders. Hard drive shredders are large, heavy machines with many moving metal elements. Many are heavy and difficult to move to secure areas, weighing over 1,000 pounds (453 kg). A heavy-duty, industrial shredder made for electronics and other non-paper products is used to thoroughly grind up and destroy every single component of a hard drive in a hard drive shredder. Some people destroy their hard drives, for example, by using a drill or hammer. Some use mobile shredding services for hard drives. These hard drive shredders are contained within trucks and often stay outside when they arrive at the facility. For the media to be transported to the truck, it must leave its secure environment, which presents a risk of loss during the transfer.
Hard Disks of Various Sizes
Hard drives vary widely from one another. They vary in size as well as capacity. For example, a desktop computer's typical hard drives are 3.5 inches thick. However, a laptop's internal hard disk is only 2.5 inches thick. However, there are also larger server drives and external hard drives.
Types of Hard Drive Removal Services
Removed-Hard-Drive-from-Laptop
It's crucial to determine whether the hard drive shredder chosen can destroy the type of hard drive available. The data on the storage device must be deleted before old gear, such as a broken laptop or outdated desktop computer, is thrown away or sold. There are two options for erasing the data: using specialized software to wipe the hard drive or physically shredding the hard drive with a portable hard drive destruction machine.
Hard-Disk-in-Hard-Drive-Shredder
Deleting data to remove sensitive data from the disk is not always sufficient. Using specialized equipment, hard disks and solid-state drives can be manually crushed, sheared, or shredded. You can also contract with a data destruction services provider to handle the shredding on your behalf.
Protection Provided by Hard-Drive-Shredding
Data on a shredded hard drive cannot be recovered after it has been destroyed. The hard drive is physically broken up into tiny pieces as a result. Shredding makes it much more secure than digitally deleting files or using the "factory reset option" on the computer or laptop. However, data could still be present on even the smallest hard disk platter. Microscopically, the data are visible. However, the chances of anyone being able to recover any data from a piece of a shredded hard disk are extremely slim because the disk has sustained too much damage.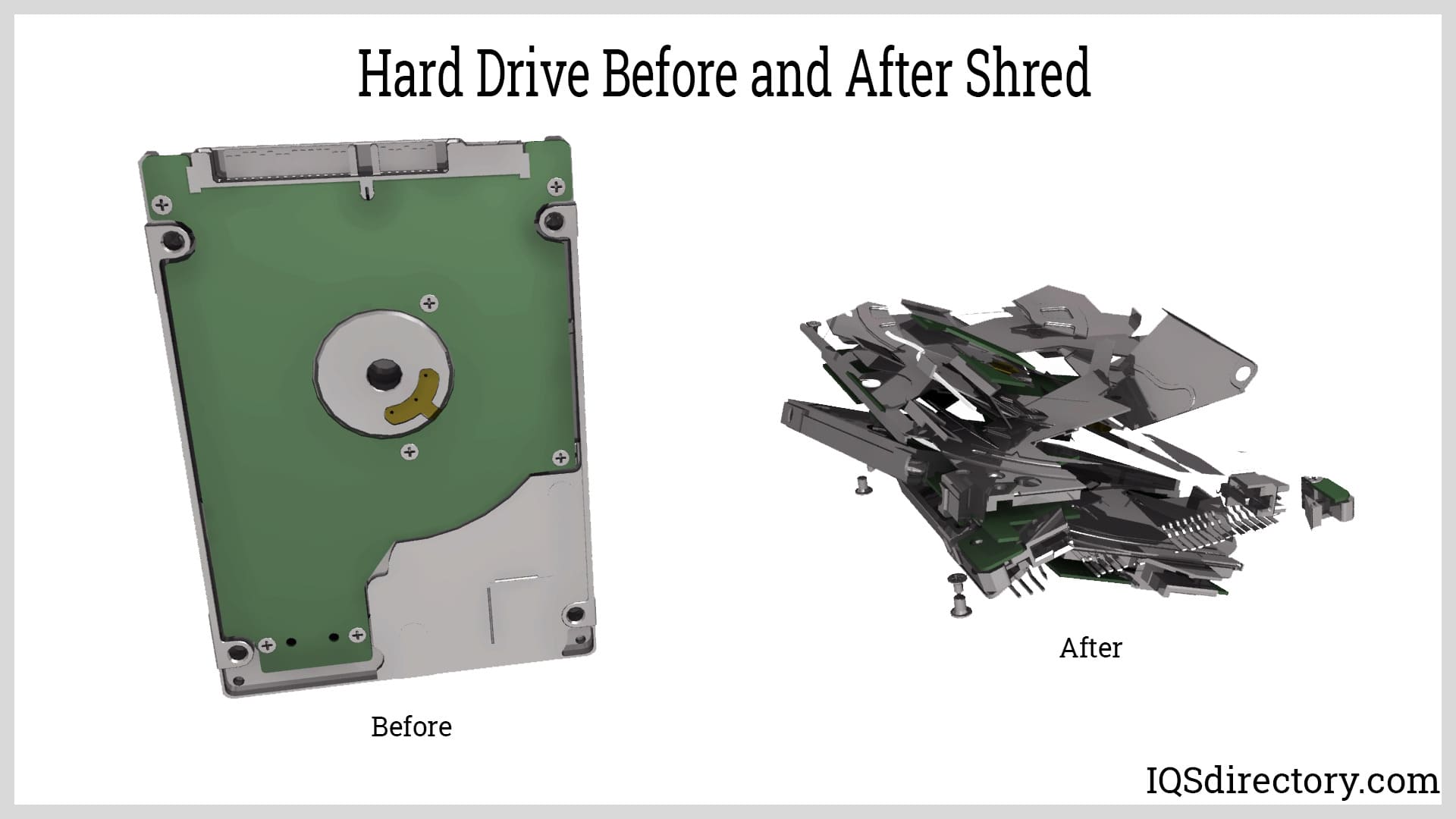 Choosing the Correct Hard Drive Shredder Supplier
To make sure you have the most beneficial outcome when purchasing hard drive shredders from a hard drive shredder supplier, it is important to compare at least 4 companies using our list of hard drive shredder suppliers. Each hard drive shredder supplier has a business profile page that highlights their areas of experience and capabilities and a contact form to directly communicate with the supplier for more information or request a quote. Review each hard drive shredder business website using our proprietary website previewer to get an idea of what each company specializes in, and then use our simple RFQ form to contact multiple hard drive shredder companies with the same message.
Hard Drive Shredder Informational Video