Metal shredders are often used in scrap sites and metal recycling processes to reduce metal waste to a specified size and shape for sorting and further processing. They deliver enduring performance as a result of their sturdy construction. Before shipping to steel mills for scrap recycling into new material, ferrous and non-ferrous materials can be crushed using metal shredders. Additionally, they enable businesses to eliminate metallic materials as needed. Read More…
Metal Shredders
Metal shredders are industrial shredders that are designed to process scrap or waste metal.
Scrap metals are usually heavy objects which would be ridiculous to move in their original state. A perfect illustration is a used automobile, which occupies a lot of space yet is considerably lighter and easier to handle once it has been crushed and shredded. Shredding greatly reduces scrap metal's volume and separates it into smaller, easier-to-handle pieces.
The shredding procedure facilitates the separation of ferrous from non-ferrous metals and other materials such as rubber, plastics, and fabrics.
Metal Shredder Parts
Blades
Blades are a vital part of a shredder, but because not all blades are compatible with all materials, they must be carefully selected to suit the material to be shredded. For shredding various kinds of metals, several blades are used. They are made of hardened alloyed steel and can be coated to increase their useful life.
Rotor
To shred scrap and waste, a shredder's rotor comprises saw teeth cutters that mesh with knives.
Motor
The motor of a shredder operates at a low speed to minimize strain. The shredder can shred various materials because of its tremendous torque and slow rotating speed.
Housing
The housing, made of sturdy metal, contains every shredder component.
Types of Metal Shredders
Single Shaft Shredder
A rotor and hydraulic ram are employed in single-shaft metal shredders to press waste and debris against the rotor, which initiates the cutting action. Pressure sensors avoid jamming and material overheating by allowing the ram to move backward and forwards. These shredders, which come with different screen widths, can reduce large bulk materials into pieces as small as 0.4 in (10 mm). Every single single-shaft metal shredder has a classifier screen that offers the operator a range of measurement options to size output units.
Double Shaft Shredder
Due to its low working speed, high throughput, and high torque, which can efficiently treat a range of materials, the double-shaft metal shredder is a common industrial shredder. Industrial shredders with dual shafts can process various materials and may have electric motors or hydraulic drives.
Double-shaft metal shredders are particularly helpful for the volumetric reduction of materials, reducing the amount of space waste items would otherwise take up. Industrial dual-shaft metal shredders sometimes lack a classification grid. Still, their distinct blade shape and ability to manage production factors allow them to control the output material's size.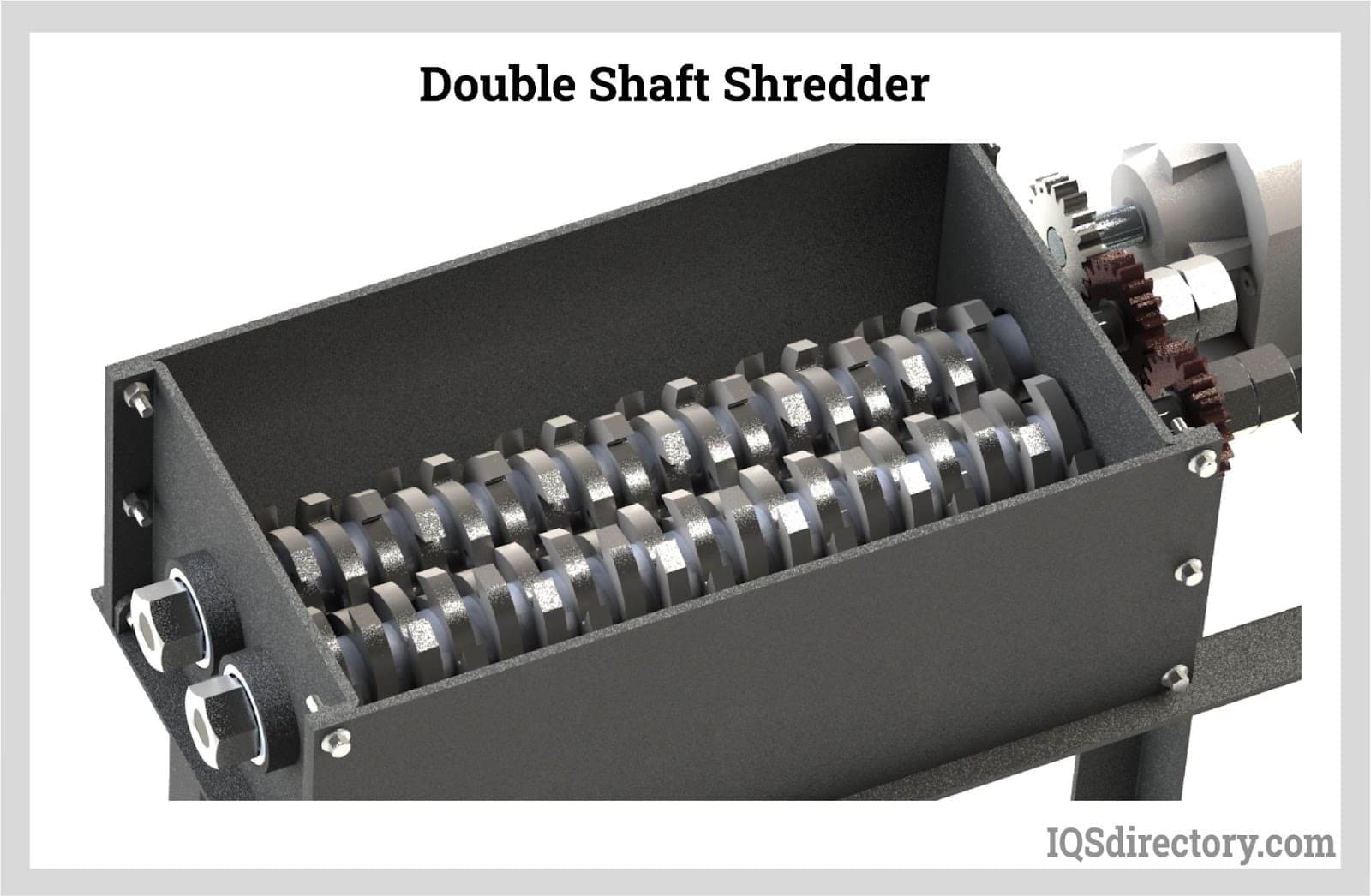 Three Shaft Shredder
Metal shredders with three shafts can be used alone or as the hub of customized shredding lines. The three variants (800-1000-1300mm) have capacities from 1.5 to 3.5 tons per hour depending on the type of material handled and include a screen for sorting the output material. The treated material's output sizes range between 1.2 by 1.2 inches (30x30 mm) and 2 by 2 inches (50x50 mm).
The metal shredder has a slicing system that combines a sweeper shaft and strong rotor blades. A three-shaft metal shredder also features a pivotable screen bin in the middle, individual cutter disc replacement, and bulkhead seals that protect the shaft bearing. In addition, there are mechanical and hydraulic three-shaft metal shredders with automated power-down and reverse functions.
Four Shaft Shredder
Two drive rotors on four-shaft metal shredders feed scrap metal to the lower cutting rotors. Separate gear motors propel these cutting rotors. These extra cutting rotors are employed to prepare materials for size reduction or further processing with a granulator. Four-shaft metal shredders are commonly used for trash not processed by a dual shaft, such as cars, and are comparable in size to a dual shredder. Industrial four-shaft metal shredders have been constructed for crushing a variety of materials as well as for dimensional management of the output material due to the availability of replacement classifying grids.
Metal Shredding Process
The material to be processed is put into the shredder's hopper; some systems use a conveyor belt.
Depending on the type and design of the shredded metal, the material is sliced into different sizes as it passes through the shredding machine. A secondary shredder can be used with some materials to reduce a particle's size further.
To cut material to a set size with bulk shredders, sizing or discharging screens filter materials and send oversized bits back through cutting blades. Screens are manufactured to fit the type of metal and come in various sizes. Only properly aligned screens will cause the cutter to operate.
Choosing the Proper Metal Shredder Manufacturer
To make sure you have the most positive outcome when purchasing metal shredders from a metal shredder manufacturer, it is important to compare at least 5 manufacturers using our directory of metal shredders. Each metal shredder manufacturer has a business profile page that highlights their areas of experience and capabilities and a contact form to directly communicate with the manufacturer for more information or request a quote. Review each metal shredder company website using our patented website previewer to get an idea of what each business specializes in, and then use our simple RFQ form to contact multiple metal shredder companies with the same form.
Metal Shredder Informational Video