A shredder is a device used for destroying various media. Shredders are used to reduce waste volume and reduce costs. Read More…
Design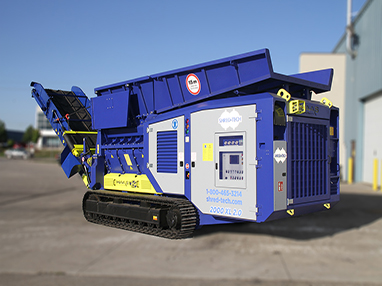 There are four types of ways shredders cut: shearing, tearing, fracturing, and optimum action. Shearing uses scissor mechanisms to cut up the material. Tearing involves pulling apart material with force. Fracturing is a method of shredding used primarily on glass and plastic that involves shattering material. Optimum action uses all three other types of cut at once.
Every type of material can be handled using different shredders. Ductile materials, such as cloth, rubber, soft plastics, paper, soft metals, and cardboard, tend to not be easily fractured. These materials are better disposed of using shearing. On the other hand, friable materials, such as stone, glass, cast metals or wood are easily fractured.
Shredders feed in one of two ways: batch or meter. Batch feeding involves dropping large masses of material into the machine at once. Batches are more likely to clog or take on more than they can shred. Meter feeding involves material getting dropped in using a controlled stream such as a conveyor.
Plastic Shredders
Plastic shredders can be categorized as grinders, chippers, shear shredders, granulators, hammer mills, and all-purpose shredders.
Tire Shredders
Tire shredders are designed for shredding old tires into landfill covers, boiler fuels, rubberized asphalt, and various other products. Typically using shear shredders, specialty shredders, grinders, chippers, and granulators.
Paper Shredders
Paper shredders are designed to shred and dispose of commercial and industrial paper waste. This is usually done using strip-cut shredders, industrial paper shredders, and cross-cut shredders. Commonly used by government organizations, businesses, and private individuals to destroy private, confidential, or otherwise sensitive documents. The shredders range in size and price from small and inexpensive units designed for only a few pages at a time.
Wood Chipper
A wood chipper is a heavy-duty machine that reduces the wood into tiny pieces. Typically trunks and tree limbs are placed through a wood chipper and turned into woodchips. Machines can be stand-alone or made portable.
Scrap Metal Shredder
Scrap metal shredders are used to reduce the size of scrap metal for ease of disposal or recycle. These are commonly used for tin cans, iron, copper tubes, coins, computers, bulk drums, tin, and electrical boxes.
Single Shaft Shredder
A single shaft shredder has less rotating blades, but can still handle:
• Pallets (wood and plastic)
• Rolls of rubber
• Tree limbs
• Excess injection molding materials (molding, sprues, etc.)
Dual Shaft Shredder
Also called a double shaft shredder, this design has two blade shafts and can shred large products that are light and hollow, such as:
• Most forms of construction, demolition, and hazardous waste
• Glass
• Tires
• Drum containers (steel and plastic)
• Wood
• Textiles (and fibers)
• Televisions
• Computers
• Small office machines like fax machines and printers